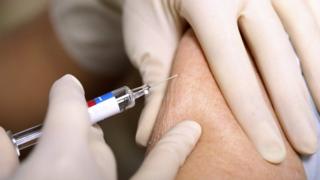 The Public Health Agency is urging people eligible for free flu vaccination to get it straight away.
It comes after the Republic of Ireland confirmed its first flu deaths from a strain – A(H3N2) – known as Aussie flu.
This year's Northern Ireland flu vaccine has been developed to tackle the main strains circulating this season, including A(H3N2).
The PHA says it is essential for those eligible to get vaccinated annually.
'Aussie flu'
Dr Jillian Johnston of the PHA said: "Getting the free flu vaccine is the single most important thing you can do to help protect yourself against flu.
"With high levels of flu activity in Australia during their winter, and the potential for similar here, it is more important than ever that everyone who is eligible gets vaccinated.
"We are fortunate to have a more comprehensive flu vaccination programme than Australia or England, but the benefits can only be realised if a high proportion of the groups who can get the vaccine actually take up the offer."
The flu vaccine is offered as the best protection for people over 65 and at risk groups, including pregnant women and young children.
"The Australian experience showed that older people were more susceptible to the A(H3N2) strain of virus, so with families spending a lot of time together at this time of year, getting kids vaccinated can help reduce the spread of flu to older people," Dr Johnston said.
"If you have a child who is eligible for vaccination but hasn't yet received it, contact your GP and make an appointment."